Allure Las Vegas
Allure Las Vegas is an upscale residential condominium development located next to Stratosphere towards the North end of the Las Vegas Strip. Despite being on the strip, the address is on Sahara rather than the world famous Las Vegas Boulevard.
Year Complete:

2008


Height:

465.9 Ft (142 m)


Floors:

41 Each tower


Units:

428


Address:

200 West Sahara Ave


Official Site:

allurelasvegas.com


HOA Fees:

~$0.45 per SQ Ft. per month
Overview
Allure Las Vegas Overview
Allure Las Vegas is a large condominium high-rise located on the North end of the Las Vegas Strip. Like other high-rises, it offers luxury living and spacious rooms. Aside from beautifully designed interiors, one of Allure Las Vegas' best selling points is its location – It is one of the few high rises in Las Vegas located either "on the strip" or "very close to the strip". In this case, Allure Las Vegas isn't technically on the strip, but it does overlook it, as residents can easily walk to the Stratosphere Resort and Casino as well as the SLS Casino (Previously known as the Sahara). It is also a short walk from Sky Las Vegas and Hilton Las Vegas.
Allure Las Vegas was originally designed as two identical towers. The first one completed in 2008, and due to its popularity, the second tower's design was changed to 72 stories as a separate hotel & casino. The project has been put on hold though due to the economic crisis which began in 2007.
Construction on the Allure Las Vegas development began in 2005 and the project was completed in 2008 . The developer was originally selling units for $348,000 (For 838 Sq Ft Studios) – $2,170,000+ (5625 Sq Ft Penthouses) but units are now available through owner re-sales and bank repossessions for much less.
90% of the units in Allure Las Vegas Sold Out before the building was even completed. Current Allure Prices are very similar to that of comparable units in Panorama Towers, Panorama North and Sky Las Vegas.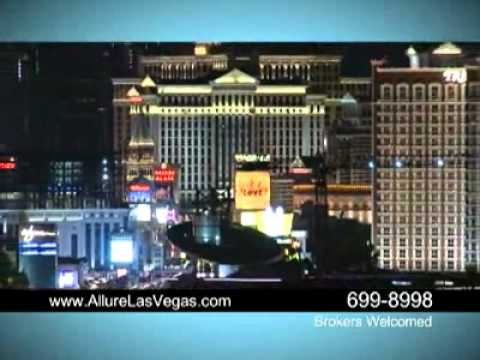 Architect: EDI Architecture
Developer: Fifield Reality Co.
Allure Las Vegas Location
[googleMap name="Allure Las Vegas" description="290 West Sahara Ave, Las Vegas, NV" width="450″ height="350″ directions_to="false"]290 West Sahara Ave, Las Vegas, NV[/googleMap]
Allure Las Vegas is Conveniently located next to Interstate 15 and Las Vegas Blvd. It is also very close to the Stratosphere Casino and Resort. It's right next to the SLS Las Vegas casino as well.
Amenities
Allure Las Vegas Amenities
Residents in Allure Las Vegas have access to following amenities:
24-Hour Doorman
Valet and Concierge Services
Beautiful and Private outdoor Pool with Private Cabanas
Club Room with Catering Kitchen
Fitness Center with Wellness Programs
Private Exercise Room
Private Wine Cellar
Private Library
Media Room with Conference Facilities
Business Center with Wi-Fi
Each individual condominium unit in Allure Las Vegas includes a Spacious Master Bathroom, Washer/Dryer, A parking space, Granite Countertops, Stainless steel appliances, Italian tile in Kitchen/Bath/Foyer, European Style Cherry Cabinets and Full ceiling heights 9'6″ & 10'6″. Each unit also includes floor to ceiling walls of glass and private balconies.
Photos
Allure Las Vegas Photos
Exterior
Interior
View
Floor Plans
Allure Las Vegas Floor Plans
Allure Las Vegas offers a variety of floor plans ranging from studios to three bedroom penthouses. Below are details floor plans for each unit type. Included with the floor plan are square footage information and which floors each unit design can be found on.
Contact Info
Allure Las Vegas Contact Info
Allure On-Site Sales Office
200 W. Sahara, Suite #3108
Las Vegas, NV 89102
Phone: (702) 699-8998
Fax: (702) 699-8958
Contact:
Matt Brimhall
Vice President
MattB@allurelasvegas.com
Allure On-Site Leasing
200 W. Sahara, Suite #3108
Las Vegas, NV 89102
Phone: (702) 333-4455
Contact:
Brittany Morse
Leasing Manager
BrittanyM@AllureLasVegas.com